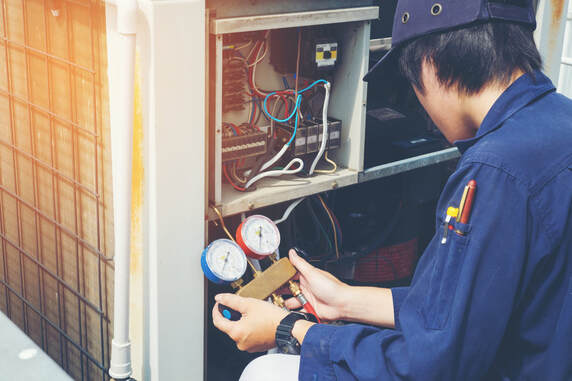 It's summer in Denver. That means you have to deal with the hot weather that can get up to about 90 degrees. But what happens if your air conditioner decides to stop working right in the middle of this heat?
​We've put together this guide to show you what you should do if you need HVAC repair in Denver. So let's get started!
What to Do If You Live in Denver and Need HVAC Repair
Before you call a Denver HVAC professional to come out and fix your unit, you should rule out a few possible culprits. By checking these things, you might be able to get your system working again on your own, which means you'll save some money.
​Make sure you start by doing the following things.
Check the Thermostat
If your HVAC system won't turn on, it's easy to jump to the worst possibility and overlook your thermostat. Instead of calling a professional when you don't need them, double-check your thermostat.
​Is it turned on? Is the temperature set at the right level? Fixing these things should get your unit working again.
Flip the Circuit Breaker
If your thermostat wasn't the problem, head to your circuit breaker next. It's possible something made the circuit breaker trip, which means your HVAC unit isn't getting any electricity. Try turning it back on and see if that gets your system running again. Make sure you keep an eye on your circuit breaker. If it turns off often, you might be something seriously wrong with the electrical wiring.
​This can be dangerous, so you should get in touch with a professional HVAC technician right away.
Change the Air Filter
Sometimes a dirty air filter can make your entire unit shut down.
Pull out your filter and replace it with a new one. This might be all your unit needs to start running again.
Don't know what type of filter your unit uses? You can ask an HVAC professional. They'll be able to tell you what type of filter you should be using.
If you don't know how to change your air filter, it might be a good idea to hire a professional to do the job for you.
Repair or Replace? What's the Better Option for Your Unit?
If you still can't find the reason your HVAC unit stopped working, you'll have to hire a professional to come take a look and find the problem.
But before you do that, there's one other thing you need to think about.
How old is your unit?
Your system should last anywhere between 15 to 25 years, so if it's reaching that age, it may be time to replace your unit instead of spending extra money on repairs that won't keep it running for much longer anyway.
Talk to a professional if you aren't sure how old your unit is or how long it's supposed to last. They'll be able to recommend the best course of action for your unit.
Schedule a Maintenance (Or Replacement) Appointment With an HVAC Professional
Not that you know whether you're repairing or replacing your HVAC system, it's time to schedule an appointment with an HVAC professional.
Not sure how to find the right company?
Spend some time at your computer researching your options. Here's the best way to get started.
Search for Denver HVAC Companies Online
Open up Google (or your preferred web browser) and type "HVAC companies in Denver" into the search bar. This should give you plenty of options in your area to choose from.
But that doesn't mean you should just pick the first one that pops up in the results. Instead, spend some time looking at the website and doing more research. This will ensure you get the most qualified company at the best price.
Read Plenty of Reviews
While many HVAC companies might have reviews posted on their websites, you should also take a look at reviews from other sites like Yelp. This will give you a good idea about what past clients thought about the companies services.
You want most of the reviews to be positive, but if you come across a negative review or two, don't panic. It's hard to please everyone, so as long as a majority of the reviews are positive, that company is likely a good choice.
Ask a Lot of Questions
Once you find a company you think would be a good fit for your needs, call them or visit their office in person to learn more about their services and their prices. You should use this time to ask a lot of question, including the following:
How much experience do you have?
Can you give me referrals?
Do you have all the right licensing and insurance? (They should be able to show you proof)
How much do you charge?
How long will the repair take?
An HVAC professional should be willing and able to answer all your questions, no matter how obvious they might seem. If they don't have good answers to these questions, that's not a good sign.
You might want to take your business somewhere else.
And remember, don't choose the company with the cheapest price simply because they're affordable. You get what you pay for, and if you choose a company with a low price, you may end up with shoddy repairs.
​
It's worth paying more to get better services.
How to Find HVAC Repair in Denver
Still not sure where to find the best HVAC repair in Denver? We've got you covered! Don't hesitate to get in touch with us to learn more about our repair services. Or if you're ready, you can schedule an appointment with us today!